After 8 races filled with thrills and spills I'm wrapped to finish 3rd in the Cyber Gamer Project Cars 2 Championship.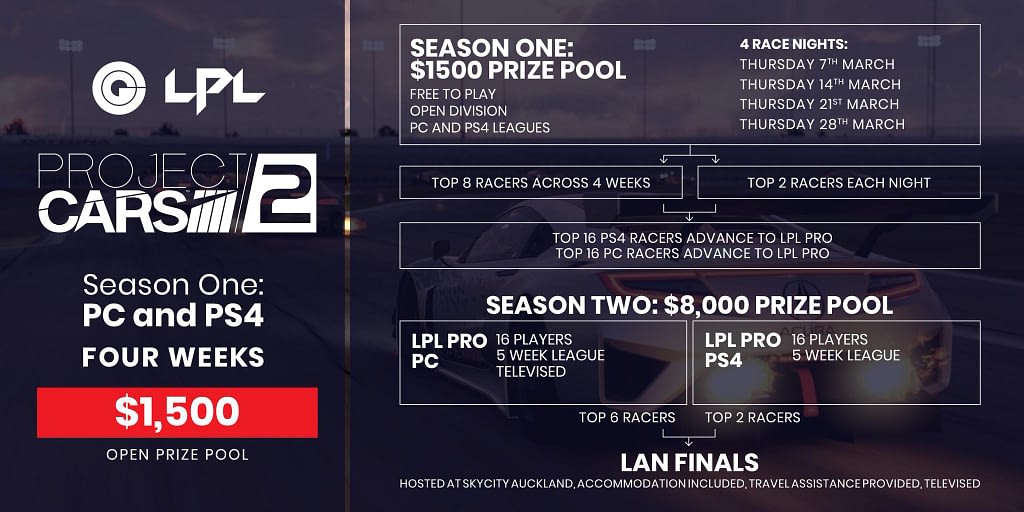 Starting the year I was eager to get stuck into the championship, coming back early from my family holiday to take part in qualifying. Early on however there the frustrations with the poor tournament organisation causing plenty of headaches but after a series relaunch and four rounds of tough racing I'm proud to get the top result I was after.
Claiming 3rd earns me $135 AUD in prize money but more importantly secures my spot in the LPL Pro league for season 2 which will be broadcast live each Thursday on Sky Sport and Twitch, has a lan final in Auckland at the end of the season, and offers up some big prize money.
Looking back on the season I'm happy to come away with 3 podium finishes and even more happy with the consistency, my lowest finish being 5th. Now lets get into the full race by race breakdown.
---
Week 1.
Race 1: Going into the unknown at the Brno circuit. Having never raced against many of the competitors I was nervous going in not knowing how competitive I would be. To make matters worse it was raining conditions to kick things off. While weather is a cool feature in Project Cars it sure does make it tough on the drivers. I was happy with my qualifying but come lap 1 of the race it all lit up. Simon (a.k.a. Sidawg) roughed me up turn 1 after the rolling start, pushing me wide and costing speed. Into turn 2 and he got it even more wrong, mixing up the brake and clutch pedal, spinning into the cars in front and coming to a stop right in front of me. I was massively frustrated to make contact and lose a lot of spots, not the start I wanted to this new championship. Trying to settle myself down I raced on ultimately not having dropped too many spots and with 20 minute races there was plenty of time to recover. As the race progressed I found myself working my way back up to 4th. Slowly closing in on the car in front I was concentrating on consistent clean driving in the treacherous wet conditions. I talk a lot about consistency and it paid off with the car in front making two big mistakes on the last two laps giving me 3rd place right at the end.
Despite the early exchange there was no real love lost between Simon and I. He's a good friend I've raced against for years including at the Gran Turismo regional finals. I was impressed to see his recovery drive put him close behind me in 4th, a close battle that would continue through the rest of the season.
Race 2: A much more straight forward affair around the Algarve circuit in the dry. I was pushing to chase Sidawg for 3rd through the first half of the race but unfortunately pushed too hard and spun off track, an easy thing to do in Project Cars. I was really kicking myself to make that mistake all on my own putting me down to 5th. That's were I would stay for the remainder of the race. Finishing 5th I still feel like that was the one that got away.
---
Week 2.
Race 3: After week 1 there was plenty of chat about how tough race 3 was going to be at Spa once again in the rain. I struggled a little for out right pace through out and wasn't able to keep up with the front group. Sitting 5th I was under big pressure from the car behind and just doing my best to keep it on the road in tough conditions. My best wasn't enough as I over did it in the wet. As I spun I gripped the wheel tighter in anger only to turn around and see the car behind me having the exact same trouble spinning in sync with me. With a big gap behind that we rejoined in the same positions and that's eventually where I would finish the race. 5th, not too bad considering I was struggling some what.
Race 4: In the dark at Daytona road course, but crucially it was dry. I really enjoyed this track and was happy with my pace. Very close qualifying times put me 4th on the grid but lap 1 was a lottery in which I lost out big. Out of turn 1 second and third place had a bizarre crash which I was glad to avoid. Excited to be up in 2nd heading into the hairpin it quickly unravelled with the car two back from me out braking himself resulting in a nose to tail which sent me flying off track. Back to last I was spewing. With no other option I rejoined and boxed on setting about the job of a big recovery drive once again. I slowly chipped away gaining spots and moving up through the field as the race progressed. I was so happy with my pace as I came through which only adds to the frustration of being taken out, it's a case of what could have been. I managed to fight my way right up to 4th on track as the race was coming to the end. With only a couple laps to go I had Simon ahead of me with a comfortable gap. But's it's not over till the fat lady sings and a mistake saw him pick up a time penalty and the fight was on. I crossed the line behind him but after the penalty was applied I officially finished 3rd. I almost got another spot too as second place had picked up a similar time penalty. Another race I wish could be done over but you can never be mad at getting a podium.
---
Week 3.
Race 5: The tight confines of Long Beach proved too much for some to handle. Best explained by the clip below.
I was gutted to have my race totalled at turn 1 but thankfully damage was turned off. I raced on and got back to sit in 4th for much of the race, eventually overtaken by a hard charging Madzie to finish once again in 5th.
Race 6: The second race of the night, at Laguna Seca, was thankfully much calmer. I was comfortably sitting in forth for the majority of the race with no big dramas. I got away with a few sideways moments but ultimately finished in 4th.
---
Week 4.
Race 7: Leading up to the race at Monaco there was a lot of talk of the potential pile up that such a tight track would cause in the GT3 cars. Somewhat surprisingly we made it through lap 1 okay but predictable that wouldn't continue for the entire race. I manage to avoid some incidents to be in a good position until a few laps in I couldn't avoid a spun car in front of me at turn 1. I lost a couple of spots but was far from the worst off and raced on. Right at the end I narrowly avoided a big turn 1 incident between some back markers, one car actually rolling over in the crash. Thankful to avoid that and thinking maybe my luck had changed I finished the race in 3rd under a lot of pressure from the car behind.
Race 8: The final race of the season and the bad weather was back. Rain again this time on the Barcelona circuit. As mentioned earlier I'm a big believer in consistency and once again that was my priority in the rain. It paid off too as I moved up to 2nd place with others making mistakes in very tricky conditions. As the race progressed the rain cleared and the track began to dry. I really struggled with the wet tyres overheating on the drying line during the second half of the race. As it went on I dropped to 3rd and then right at the end made a small mistake not having the same level of grip in the worn tyres and lost another spot. Finish 4th in the last race of the season I was still pleased. I quickly did the maths on the championship points to find that after Simons poor results in the final two races I had managed to beat him by a narrow 4 points putting me 3rd in the championship. Woohoo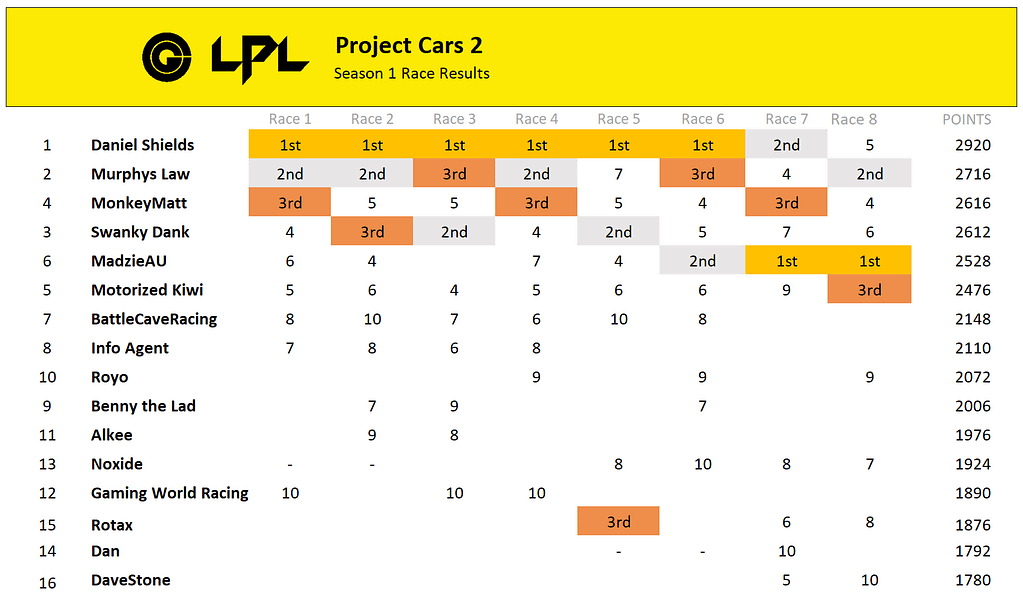 With season 1 out of the way it's time to look ahead to season 2 and the introduction of the LPL Pro league. I have no doubt it's going to be even bigger and better and not too mention more competitive with the added pressure of being broadcast live on Sky Sport and Twitch with big prizes on the line. If you want to watch it tune in to twitch.tv/LetsPlayLive Thursdays starting 7pm NZST. Week 1 is Thursday April 11th.
Bring it on.