Super stocked to represent New Zealand as an E Black for sim racing.
With a new competition emerging, the Sim Racing World Cup, NZ Esports hosted a tournament to select the New Zealand representatives. Taking place on Assetto Corse it was a one lap time trial competition with the top two being selected to represent NZ in the world qualifier event where we would go up against Australia in a fight for one qualifying spot in the Sim Racing World Cup in Monaco.
I wasn't too familiar with Assetto Corsa but I am familiar with sim racing and I am always keen on an international trip. I quickly got to work learning the game and car. After many hours of practice I did it. Finishing in the top 2 in New Zealand I became an E Black alongside Ewan Baker!
You can now see my face proudly displayed on the NZ Esports website https://www.nzesports.org.nz/eblacks/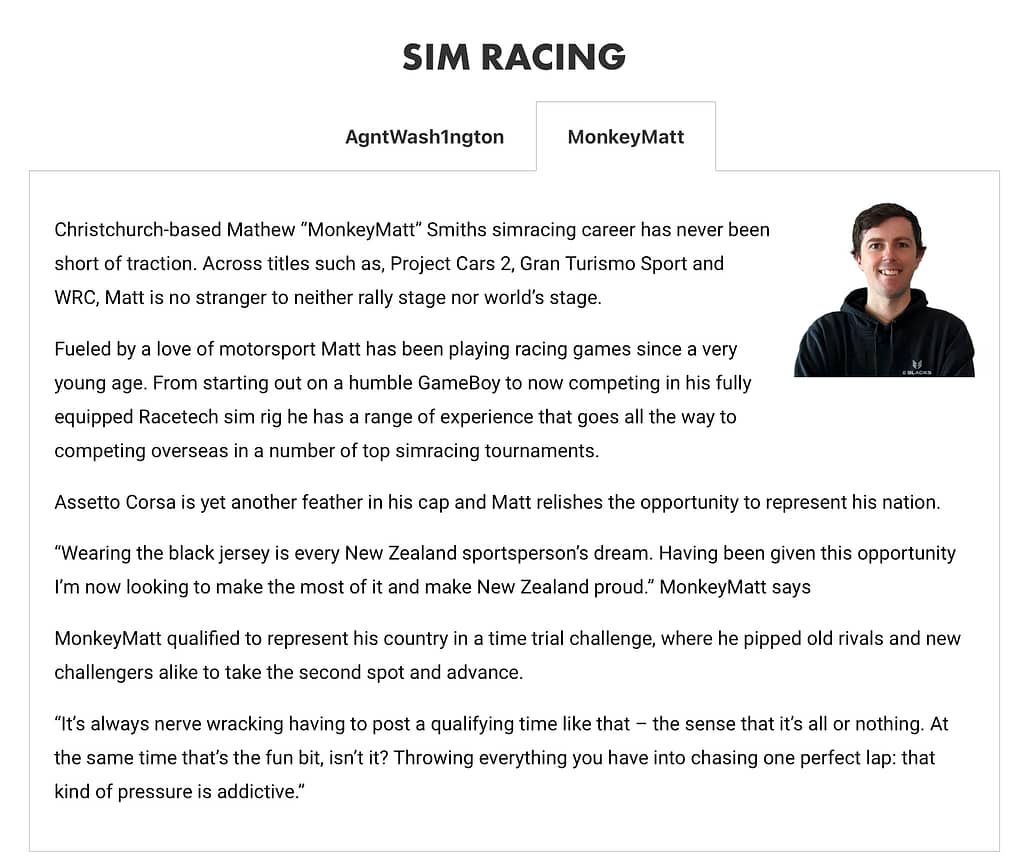 The next step was of course competing in the world qualifiers against Australia for that one coveted trip to Monaco to race in the Sim Racing World Cup. Another time trial competition, one lap around Zandvoort. I threw everything at it. Training every day putting in long hours. To start with I was off the pace but I had to keep trying. I watched youtube videos to perfect my driving and try to find a good car setup. I reached out to one of the top drivers from another region and was so grateful to get tips and help with the setup. I took a day off work for the final day to train and grind for that perfect lap. In the final stages it was Ewan and I close at the top of our region. I was slightly behind trying my best to string together something magic to get the top spot. In the final hours we were both online, me trying to close the gap and Ewan watching closely trying to improve himself in case I did find magic. But it wasn't to be. Ewan did an amazing job and finished ahead of me. He now gets a paid trip to Monaco to compete in the Sim Racing World Cup. Second place gets nothing.
But I'm still an E Black and you can't take that away.
Continental qualifiers results: http://srwc.opak.ovh/