Last weekend the 2kcup World Championship headed to Pukekohe for round 4 of the season. It's already season 6 of the 2kcup but the Red Dragon is still going strong so I excitedly made the Journey to Auckland to share the drive with Dad.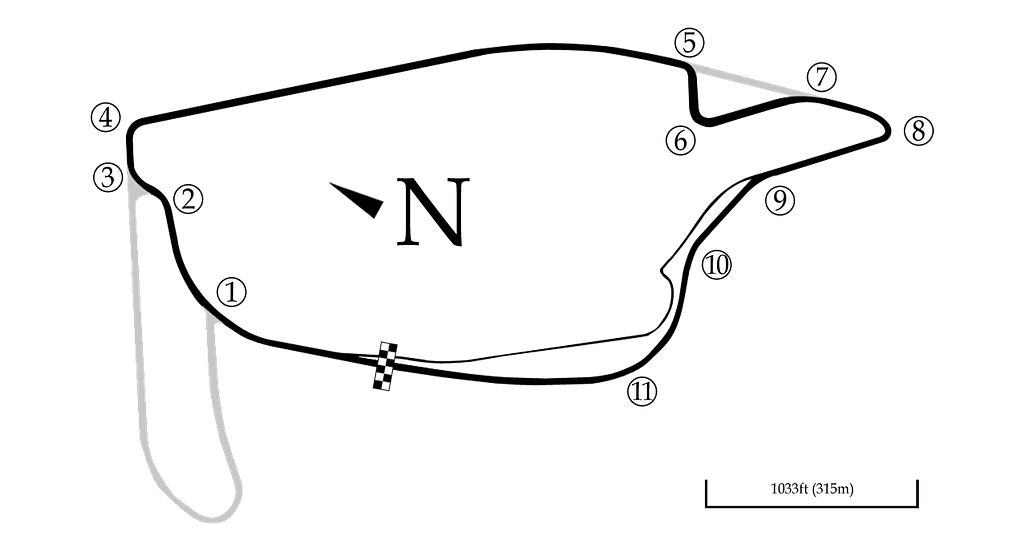 It's been a fair while since I was last on track so I was keen to get some practice in on the Friday before hand. Doing Friday practice always makes a huge difference to not only my pace but also confidence ahead of a race meeting, and confidence is particularly important at a track like Pukekohe.
So come Friday morning I'm up bright and early to catch a flight to Auckland ready for practice day. I say bright and early but it wasn't really bright, I was up far before the sun. Why not fly up the night before you ask? Because I was racing Thursday night of course silly. I've been competing each Thursday night in a sim racing championship and me being me I didn't want to miss out on anything. The only thing I was willing to miss out on was sleep, so it was an early flight for me but I knew getting in a race car later would quickly wake me up.
---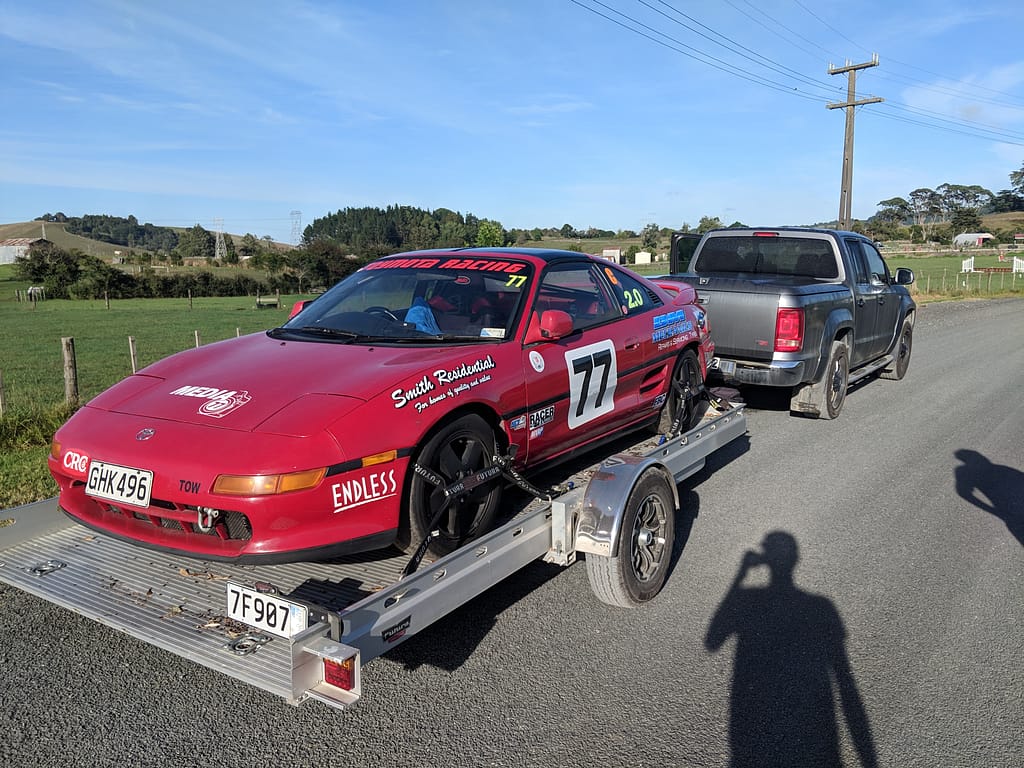 Thankfully Friday practice was a late start so we arrived ready for the first session. Dad immediately embarrassed himself stalling the Ute in front of all the drivers gather for drivers briefing. On to practice and the 30 minute sessions gave us a great chance to share the car, one of us would jump in first and come back to the pits half way through for the other to have a run. First session up was all about re-familiarising myself with the car and with the track. It'd been a long time since I'd raced and longer still since I'd been around Puke.
The track is notorious for it's high speed corners, big bumps, and close walls. It's a track that rewards bravery, but be careful not to cross the line from bravery to stupidity because a car destroying crash is only ever an inch away.
In the first session I immediately realised just how rusty I was. I think I had forgotten how physical it is in the car particularly with all the Puke bumps. All the sim racing I've been doing recently seemingly giving me a false sense of comfort, out on the Puke track though it was another story. The first couple of laps really got my attention as I tried to carry speed through the fast first and final corners more aware of just how close the walls are should I make a mistake than I have ever been.
Not to mention we were using the old track layout which doesn't include the complex on the back straight. The Red Dragon doesn't like this layout. I was maxing out in 5th gear down the straight, hitting the speed limiter some 200 meters before the corner. Thankfully this was the only session on that layout so I simply backed off and coasted at this point each lap knowing speed there wouldn't count for much.
I started the day slow, slightly frustrated with myself knowing just how fast I have been at Puke in the past, but I also knew there were plenty more sessions in the day and if I patiently built up my speed and confidence I could get back on pace in no time. And that's exactly what happened.
In each session I was getting faster as I pushed closer to the limit of grip. The sim racing might not have helped with the initial car feel but it does help with technique. By the end of the day I was right on the limit. Foot flat to the floor through the last corner and flying through turns 2/3/4 faster than everyone around me.
It wasn't all smooth sailing however. Early on we had noticed a vibration in the brakes and it wasn't getting better. The brakes were still doing their job well enough but by the end of the day it was feeling pretty serious with the whole car shuddering in the braking zones.
Another less pressing issues (but equally frustrating) was that I was going too fast. As I started to nail the final corner it was setting me up for a good run on the front straight, by the end of the straight I was hitting the speed limiter again. I wanted to go faster but the car wouldn't let me. Dad didn't have this issue, at one point saying he was going 160km/h through turn 1, a speed that seems far too high given how much your turning, how bumpy it is through there, and the minute distance you are from the wall. I looked at the speedo through turn 1 in the next session and was doing 180, this track really does reward bravery and I was more than willing to put it all on the line.
Overall another great day at the track. I love getting out there in space and trying to beat my own fastest lap. Pushing the car to the limit and feeling it start to lose traction but keeping it under control. Dad too was enjoying it, although perhaps a little more intimidated by the risks involved in driving round Puke. It was cool sharing the car once more, practising driver changes in each session. We sure worked the car hard that day but there was plenty more to come in the races on Saturday.
---
On to Saturday. Race day.
Qualify first up. It was a half hour session where all 80 cars would have to get a chance on track. With only 40 cars allowed on track at a time the races would be split but qualifying used a rotation system where cars were let out once another car came back to the pits (so only 40 on the track at a time). Dad decided to get in the car first partly so he could warm everything up for me to set a top qualifying time and partly because I was faster at getting into the car during the driver swap (but mostly just because one of us had to go first and he fits the bill of being a one of us).
Dad out first did a good job speeding round the track. After 5 laps he was in the pits for the driver swap and then straight away I was on track for my qualifying. Thankful for having done practice I was straight into it pushing to go as fast as I could. With such a variety of speeds in the 2kcup though it was hard to get a clear lap. I ended up getting compromised heading into turn 1 on the final lap of the stint, and with the brakes shuddering worse than ever I decided to come in early. With the way qualifying worked though I had time to come through pit lane and get back out for one last flying lap. I really put everything into it. Unfortunately I caught up to a slower car heading into the complex which compromised my line but I was wrapped to find that despite that I had still managed to set my fastest lap on that last lap.
We both managed to set times even faster than we had done in practice the day before, yet more proof that practice makes progress, with my time putting us 26th out of 80, a great result.
After qualifying I was a little annoyed to find that race 1 would be a reverse top 20. This format doesn't do any favours to those placed just outside the 20 as it means the fastest cars are right in front of you and will just pull away. However it does mean I can say I was 0.3 seconds away from being on pole position. So so close. I would have been singing the praises of this format had I been that tiny bit faster, how cool would pole have been. 0.3 seconds. Dang.
---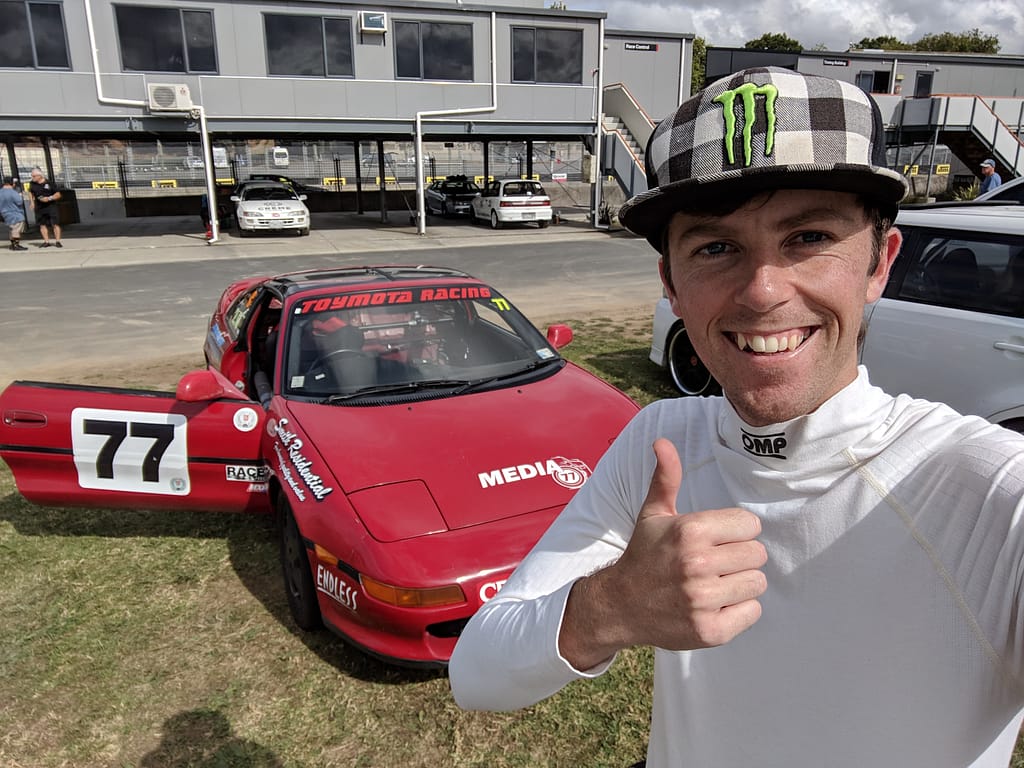 Before the races could start Dad made the call to sit them out and let me drive both. He had been toying with the idea all weekend, wanting me to get the most out of my trip up from Christchurch. Up to this point I had managed to convince him to share the drive knowing he would enjoy it but when he saw our position after qualifying and the speed gap between the two of us he made the call to hand driving duties to me.
So into race 1 and I was the driver behind the wheel of the Red Dragon. Lining up on the grid for race 1 I was surprisingly calm. I always think back to my first few races where the airiness of sitting on the grid in silence before the lights go out was really noticeable. These days I'm far more comfortable sitting there rearing to go. And when the lights went out boy did I go. Off to a great start I was up the inside into turn 1. Getting the move done early then switching to the inside for turn 2 to gain more spots and head all the way around the outside of 3 and 4 . Man I love the first couple of laps in a race. Prime time to make up positions as other drivers build themselves into it while I'm already at max speed. Suddenly I was up in the top 20 and giving everyone a run for their money.
As the race went on I was pushing to get everything out of the car. Every lap I would come flying down the straight with the speedo going off the chart at probably 200km/h and the limiter would kick in and slow the car down. It was hugely frustrating getting overtaken by other cars which were still accelerating while the Red Dragon was slowing.
I lost a couple of spots but soon settled into a fight with a brightly coloured car in front. Eventually I got the move done and kept my foot up it to stay ahead. Sweating all over in the heat of the race suit I was really feeling it as the race progressed. I had settled into a bit of space on my own towards the end of the race. That wasn't to say I was taking it easy as I kept throwing the Red Dragon into corners trying to carry as much speed as possible knowing that a lot can still happen even down to the last lap. I was exhausted and praying for the last lap board to come out as the big gap behind me was slowly reduced. Looming larger and larger in my mirrors the car behind was doing everything they could to catch me and I was doing everything I could to hold the gap all the while praying for that last lap board. When he did catch me I put in some defensive moves, contemplating letting him past as I was almost too exhausted to fight. And that lap the chequered flag waved. WOOHOO! I had held that position and in the end finished 17th! up 9 spots from where I had started. Truly so happy with that result going above my pre race target of a top 20 and out performing what I thought the Red Dragon was capable of.
---
Now onto race 2, the reverse grid. This season the reverse grid is based on fastest lap times and with my overly slow car this worked wonders for me putting me way up in 7th on the grid. Always a bit of pressure in a reverse grid as there is so much potential for a great result, I've had some awesome ones in the past and so has Dad, but it's easy to throw it away getting swamped by the pack.
Off the line the MR2 is strong once again and I begin my assault on the cars in front. I didn't get the jump through turn 1 this time but my strength through the opening faze of the race was in full effect as I made my way up as far as 3rd. I knew the faster cars were coming behind so I was really pushing to make hay while the sun shines.
But the limiter frustrations continued. Every lap into turn 1 I was losing time and getting more and more frustrated by it. I was faster through the turns but the faster cars around me would have a slight advantage down the straight which became a big advantage every time I hit the limiter. I could have made more progress but the Red Dragon wasn't up to the task.
Just as the faster cars from behind started getting involved out comes the safety car. A sure disaster. With the reverse grid handicap gaps gone thanks to the safety car my job just become that much harder. But at the end of the day you can only control your own performance so when the lights went green I put my head down and focused all my energy on driving the car as fast as possible. It was going well. I was still in the fight in the front group, keeping out of the clutches of the main battle pack behind. And then all of a sudden it wasn't.
Into the first corner and a faster car was making there way up my inside. I knew I wasn't in a fight with this guy so I let him through easy, but as I hit the limiter and slowed the guy I was battling with ducked up my inside as well. I was comfortable being around the outside of turn 1, I could hold my position thanks to being on the inside for turn 2, I had already done it a number of times through the weekend. But this time was different. I got on the brakes for turn 2 but I had got it wrong. Perhaps I still had too much steering angle while braking, perhaps I had picked up crap on my tyres from being off line, perhaps the shuddering brakes were causing more trouble than I wanted to admit, all I know is there was no contact, it was a mistake all my own. The car went straight into spin mode, like MR2's do, and I wrestled to do all I could to try avoid hitting anyone. Through not much more than sheer luck I narrowly missed the cars around me as I
spun through to the grass. Quickly I went into recovery mode to ensure the car spun back straight and I could carry on.
The disappointment in that situation was indescribable. I got it back on track but I was way back in 26th. I fit into a gap where I would stay for the remainder of the race. Faster than the cars behind but not fast enough to catch those in front. I maintained the gap to a big group of cars ahead only compounding my frustration knowing without the spin they wouldn't have had the speed to catch me and I would have kept a great position in the race. So frustrated with myself for missing a prime opportunity for a great result but glad I managed to get through the race with a straight car, not often you can say that after a spin at Pukekohe.
I'm not sure how much the brakes effected the lap times but it definitely effected my confidence. Having the whole car shake when you slam on the brakes before the hairpin is really disconcerting. Of course we just kept racing on them all weekend, using our lack of mechanical knowledge to judge that it must just be damaged brake rotors causing the problem. They seemed to keep doing the job though so I'm thankful I got to keep racing through the whole round.
Looking back now there's only one way to sum it all up; what a fun weekend. Happy to have had great pace. Happy to have a straight car at the end of it. And happy to have got to spend time with a bunch of great people.
---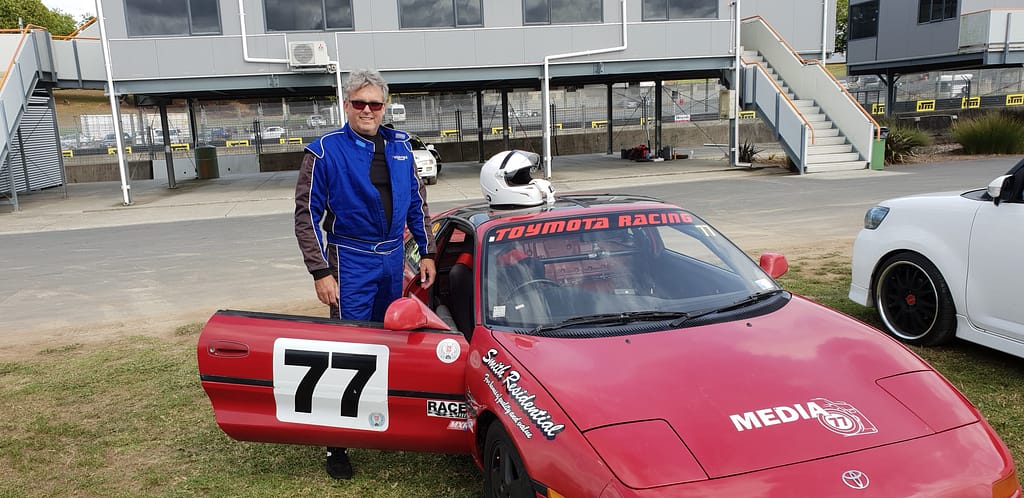 Thanks to all the family who came out in support over the weekend. It's really cool to have people at the track cheering me on and always great to catch up with you on my not frequent enough trips up to Auckland.
Huge huge huge thanks to Dad for everything he did over the weekend. For me to be able to fly up and just jump in the car truly is a dream. For you to do all the car preparation and then rather have me race it than do it yourself blows me away. I really wouldn't be racing without you and am so grateful for all the effort you put into getting the car out on track. I owe you more than just a hand carrying a few boxes.
Speaking of car preparation hopefully your up for doing it all again? My flights are booked and I'll be back behind the wheel for round 5 in Taupo on the 31st of March, less than TWO WEEKS away! This time I'll be making sure Dad get's into all the excitement of a 2kcup race for himself.